Are you finding pet transport services ? 
Do you plan to move your pet to another destination in Vietnam?
Are you considering a reputable delivery company which offer an all-in package service with preferential prices?
Indochina Post Logistics can assist you with pet moving. Additionally, we have selected trusted partner companies, specialising in the national transportation of domestic animals, ensuring that your pets receive the best possible care and attention during your move.
Moreover, Indochina Post Logistics is one of the national largest logistics companies, specializing in Air Cargo, Sea Cargo, and Express to over 200 countries.
Pet movers – Pet transport services in Vietnam
We offer transport services for pets, predominantly cats and dogs. In addition, we understand that your pet is an important part of your family, we therefore put the utmost care and effort into coordinating their relocation, to ensure a smooth and efficient service from collection through to delivery to your residence at the destination.
What's more, our staff carefully coordinate all aspects of Pet Transportation from blood tests, vaccinations, export and import permits, flights and kennel reservations, customs clearance, delivery and quarantine if required.
Moving your pet is not always an easy process. You must adhere to certain conditions when moving abroad.
At Indochina Post Logistics, we ensure your pet's transition is as quick and comfortable as yours. Therefore, to be sure you comply with all regulations, we provide advice and assistance with the necessary pet travel and legal arrangements.
However, depending on your destination, we prepare and organise your animal's transfer 2-4 months before your move.
Please note, some means of transport do not allow domestic animal importation and in others, quarantine is required.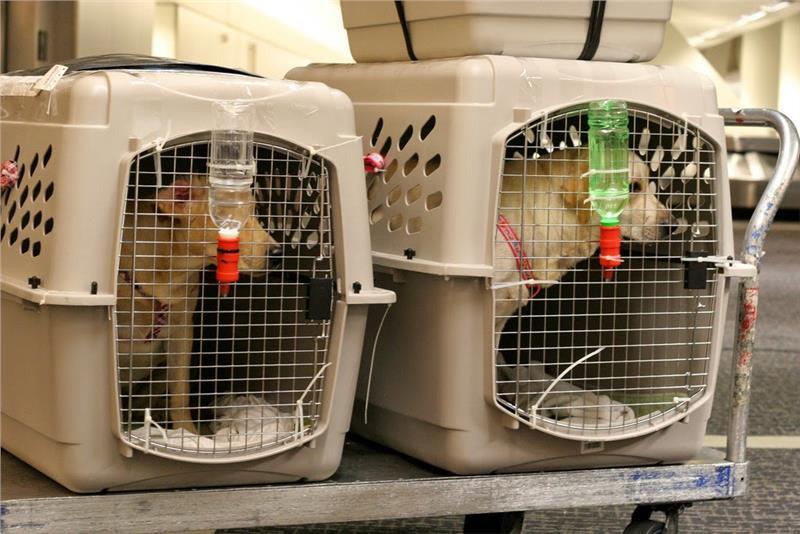 Our partners are experts in pet transport:
All of our partners have years of experience in animal care and transportation to guarantee a safe and less stressful move for both you and your pet. Their philosophy is that the animals always come first. They provide a tailor-made service dedicated to creating a loving and caring environment for your pets during transportation.
The security and the comfort of your domestic animal is their first priority, ours as well.
The process of transporting your pets at Indochina Post Logistics:
– Contacting the customer to advise on the breed of the pet to be transported, the size of the cage, the shipping fee as well as the accompanying procedures (free consultation).
– After reaching an agreement between the two parties, Indochina Post Logistics will begin to carry out the next steps.
– Trying the pet's lap size: customers can bring their pets to the Indochina Post Logistics to choose the right cage for our pets.
– After determining the exact size of the cage, we will draft and sign a pet transportation contract with the customer.
– In the process of signing the contract, customers need to deposit 30-50% of the contract value for us to carry out the procedures for you. At this point, customers can rest assured, we will complete the remaining procedures.
– Procedures to complete the procedures as well as book flights need 7-10 working days from the date of signing the contract.
– On the day of flight, you just need to give your pets to Indochina Post Logistics 6 hours before the flight time.
– The pet recipient will pick up the pet at the other airport. Flight time is depending on the transit time.
Ha Noi, Bac Ninh, Ha Giang, Quang Ninh, Hai Phong, Bac Ninh, Bac Giang, Ninh Binh, Binh Thuan, Ninh Thuan, Quang Nam, Nghe An, Da Nang, Hue, Quang Tri, Binh Duong, Ba Ria, Ho Chi Minh City, Dong Nai, Can Tho, Vinh Long, Dong Thap, Hau giang, etc.
Last but not least, we commit:
– To transport pets in Vietnam with the preferential prices
– To be the fastest service for delivering pets throughout Vietnam
– The price includes all customs clearance and quarantine procedures
– To make sure there are no additional costs
– 24/7 service when sending pets domestically
– To offer enthusiastic advice by huge experienced staff.
PLEASE CONTACT US FOR FREE CONSULTING!!!