Express gift delivery to Korean partners
Are you looking for a reputable address to send gifts to Korean partners?
You want to a cheap and fast service?
Indochina Post will be your ideal choice!
Overview of Korea
Korea is a mountainous peninsula surrounded by the sea on three sides. It shares its northern borders with China and Russia, and its closest southern neighbor is Japan, which lies across a narrow strait. The Korean peninsula measures approximately six hundred miles from its northern tip to its southern end.
The people of Korea have governed themselves since ancient times, except during the period of Japanese colonial rule (1910–1945). Koreans speak a single language and regard themselves as homogeneous, although some intermixing has taken place with the peoples of Northeast Asia, Mongolia, China, and Japan.
Many South Korean tourists visiting Vietnam
South Korean arrivals are soaring and Vietnam's increasingly lucrative tourism industry is changing to accommodate the influx
Hanoi and Ho Chi Minh City are abuzz with Korean culture while beachside destinations like Da Nang, Hoi An and Phu Quoc are tailored for Korean tastes
South Korean travelers are super eager to get back to Vietnam the most, according to the latest study of Summer Travel Trends by Agoda.com.
It matches perfectly the figures announced by the General Statistics Office of Vietnam. Accordingly, out of 602,000 international arrivals to Vietnam in the first six-month of 2022, Korean tourists accounted for the largest number, reaching 107,900, an increase of 487.8% over the same period last year.
Vietnam reopened to international tourism with quarantine-free entry from March 15 and resumed 15-day visa waivers for tourists from South Korea, its second largest source market before the pandemic.
Sunny Tan, General Manager of Fraser Residence Hanoi, said Vietnam is a beautiful country with friendly locals and wins any foreign tourists' hearts. But there are important criteria attributed to the huge surge in South Korean visits to Vietnam recently.
"Geographical proximity and daily direct flights between the two countries are the most favorable conditions for Korean people to frequent Vietnam. It takes an average of five hours to get here, so they can save time to discover Vietnam's charm at any time of all seasons," he told The Hanoi Times.
At Indiapost, we provide express gift delivery to partners at Korea
With super cheap freight from only 7x/kg, when you choose to send at Indochina Post, you will receive:
Support packing when receiving goods.
Fast delivery, from 3-5 days
Enthusiastic staffs and support customers 24/7.
Reasonable price with large shipment
Clear schedule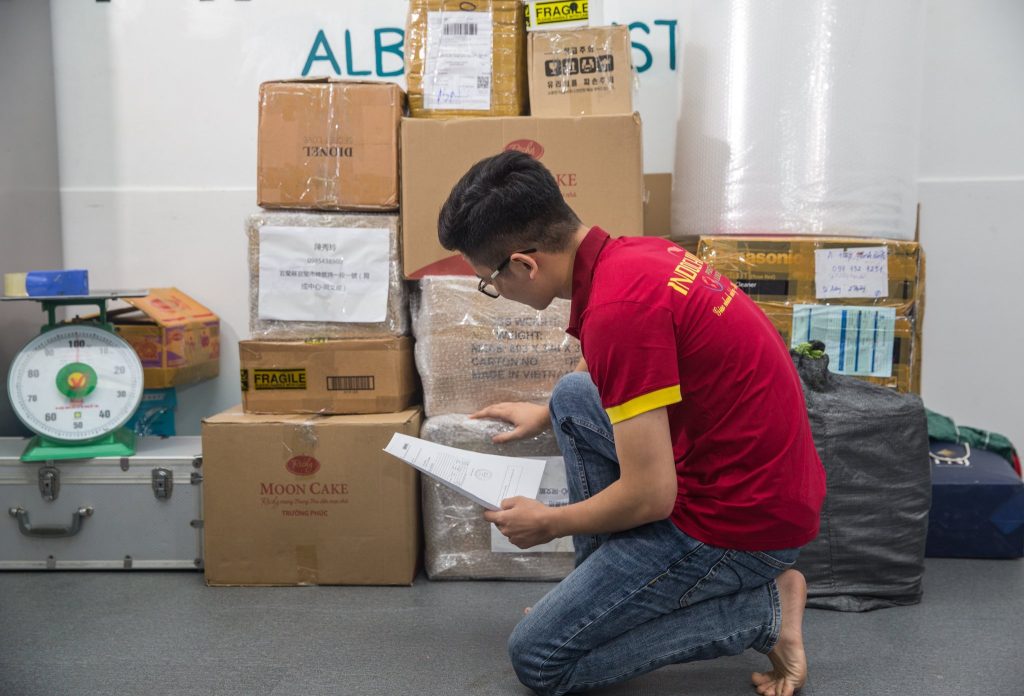 Besides, Indochina Post will ship to most cities and provinces in Korea: Busan, Daegu, Incheon, Gwangju, Daejeon, Ulsan, Gyeonggi, Gangwon, North Chungcheong, South Chungcheong, North Jeolla, South Jeolla, North Gyeongsang, South Gyeongsang, Jeju, Sejong…
Instructions for packing when sending gifts to partners to Korea
We accept most types of goods to Korea including many difficult to ship items, below are the items that we regularly receive and send:
If you do not know how to calculate the shipping weight, please see the instructions on how to calculate the weight below to be able to determine the shipping weight.
Step 1: Put the goods in the box and weigh up
Step 2: Measure the 3 dimensions and then take the Length * Width * Height / 5000
Packing when sending gifts to partners
Step 3: Compare actual weight (Step 1) and volumetric weight (Step 2). Whichever weight is larger is used to calculate the charge.
In addition express gift delivery to Korean partners,Indochina post provide another service :
Heavy and bulky items: Refrigerator, air conditioner, TV.
Postal items, documents; study abroad documents, contracts, passports.
Safe transportation of medical items: Oriental medicine, western medicine, northern medicine, southern medicine, dried leaves, herbs.
Electronic items: Phones, laptops, electronic components.
Shipping samples: Fabric samples, bags, shoes samples, wooden boards.
Personal items: Clothes, books, school supplies, shoes, gifts.
Cosmetic products: White bath cream, skin cream and many other products.
Shipping methods when using express gift delivery to Korean partners
International freight by plane
This is the most modern shipping method, fast shipping time.
Not any goods you can ship with this form. However, this is a method chosen by most customers when sending gifts to partners.
International freight by sea
Transport by sea has advantages because it is suitable for all types of goods and anywhere. Not only that, this is also one of the services with direct routes. All routes have close links with large and small ports in the world.
With extremely attractive costs, savings and the speed and convenience of each mode of transportation. India Post is committed to giving you a great experience!
Read more: